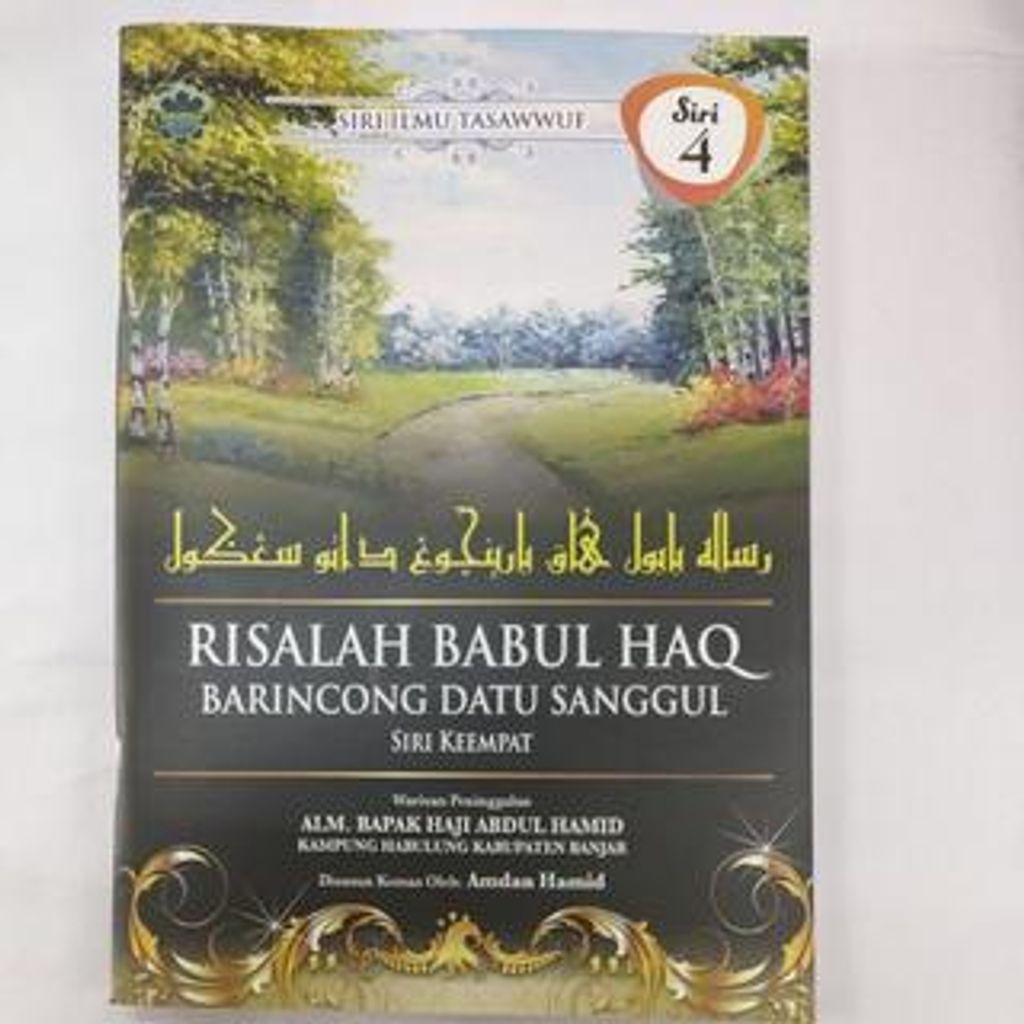 Siri Ilmu Tasawwuf Risalah Babul Haq Siri 4 oleh Alm. Bapak Haji Abdul Hamid
Risalah Babul Haq Barincong Datu Sanggul ini merupakan karya yang dinukilkan oleh Tuan Guru Almarhum Bapak Haji Abdul Hamid dari Kampung Habulung Kabupaten Martapura Banjar Kalimantan Selatan.
Persoalan yang diutarakan di dalam risalah ini mengandungi persoalan rahsia-rahsia agama yang jarang diperkatakan secara terbuka kepada orang awam. Justeru itu, sesiapa yang ada selera hendak membaca risalah ini, seharusnya dia sudah benar-benar bersedia memahami dan memandang dari sudut kaca mata kerohanian dan kebatinan orang Sufi. Ini kerana istilah-istilah yang diguna pakai oleh penulis risalah ini adalah menurut pandangan mata hati (mata dalam atau mata basirah) beliau.
Semoga risalah ini menjadi pendorong kepada anda untuk memahami perjalanan Ahli Sufi ini dengan lebih dekat lagi ke arah mengenali Allah dan Rasul-Nya agar tidak tersesat dengan segala fahaman yang bercanggah dengan Ahli Sunnah wal Jamaah. Hanya kepada Allah sahaja kita berserah diri agar dapat mengecapi limpahan rahmat dan petunjuk-Nya.
Warisan Peninggalan : ALM. BAPAK HAJI ABDUL HAMID KAMPUNG HABULUNG KABUPATEN BANJAR
Please refer to the images for a summary/synopsis of the book.
Sila rujuk kepada gambar halaman belakang buku untuk membaca ringkasan buku tersebut.
Customer comments
| Author/Date | Rating | Comment |
| --- | --- | --- |